All classes are $15 unless otherwise noted, student price is $6. 10 classes may be purchased for $120.
$3 from each payment will be going towards the outreach program and the Madan Bali Yoga Centre.
There is also a fee of $1 for interac and credit card payments.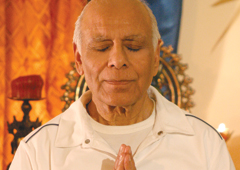 Dr. Madan Bali
$20 per drop-in class or $170 for 10
Dr. Madan Bali is the founding director of Yoga Bliss. Born in India, he developed an interest in the spiritual path from a young age and studied with masters including Swami Chinmayananda. He was a longtime yoga practitioner by the time he emigrated to Montréal in 1969 and began to share his passion. For over 45 years, Dr. Bali has successfully brought Yoga to colleges, school boards, hospitals, corporations, and community centers; has trained yoga instructors; and has innovated Yoga as a proven complementary therapy for psychosomatic disorders.
In our fast-paced, stress-prone lives, Dr. Bali's extensive knowledge of the therapeutic benefits of Yoga is invaluable to us.